The New York Botanical Garden is celebrating its 20th annual Orchid Show with The Orchid Show: Natural Heritage . This installment of The Orchid Show showcases the immersive and dynamic designs of landscape artist Lily Kwong as the guest designer and is on view February 18 through April 23, 2023 in the historic Enid A. Haupt Conservatory.
NYBG's Orchid Show has always been a highlight of the Garden's events. The orchid is one of the most popular flowering species on earth. Grown all over the earth, except Anarctica, this amazingly diverse botanical has over 30,000 species and about 120,000 hybrids making it the world's largest family of flowering plants. NYBG's installations highlight exactly what makes the orchid so popular – the bloom's many colors and designs.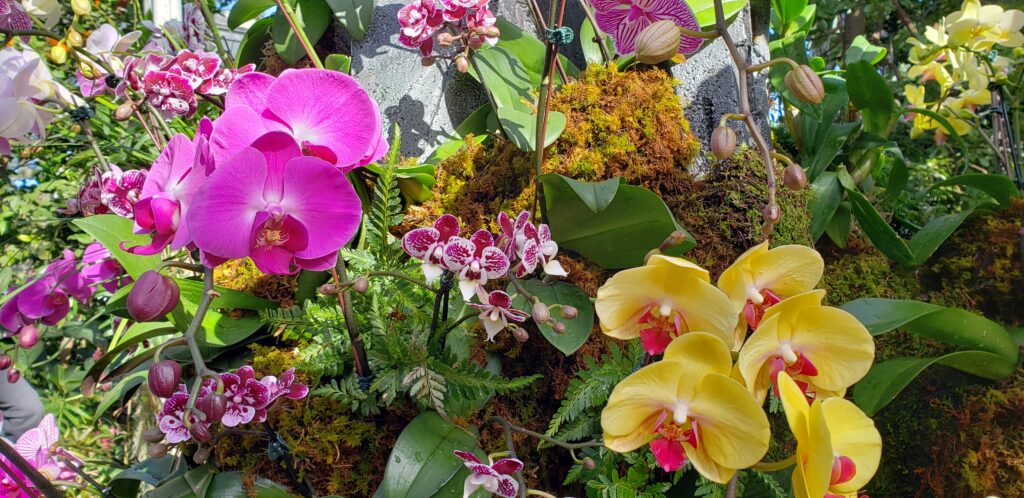 With spectacular installations of thousands of orchids, Lily Kwong's design explores the healing power of the natural world through flowers and heritage. Recalling the deep impression made on her during her childhood by a book of classic paintings of Chinese mountainscapes passed down through her family from Shanghai, Kwong cites her own heritage and her artistic interpretation of nature's healing force as inspiration for her design.
In her own words
"I am deeply honored by the invitation to be the guest designer of NYBG's historic, 20th annual Orchid Show… This exhibition's design is my most autobiographical work to date, and the piece took shape through meditation and exploration of my ancestral roots stretching back generations to Shanghai," said Kwong.
Collaborating with NYBG horticulturists and Exhibitions staff, Kwong's team identified and assembled a spectacular selection of orchids that are native to Asian countries and companion plantings. Together they created dynamic displays that are not only visually dramatic and striking, but emotionally evocative. The exhibition's varied installations evoke ancient mountainous topographies producing a Zen-like experience as one meanders through displays. Kwong aspires to immerse visitors in a blend of ecology, culture, and fantasy and experience a world in which humanity and nature coexist peacefully.
"At a time when we are all starved for connection, the prayer of this installation is to offer a sense of community, reciprocity, and grounding into ancient wisdom and traditions that have guided us for millennia. In traditional Chinese culture, flowers are the carriers of rich cultural information and have been revered by scholars for representing integrity, peace, and refinement," said Kwong.
On select evenings during The Orchid Show, adults 21 and over can experience the exhibition through Orchid Nights, with music, cash bars, and food available for purchase.
At the NYBG Shop, visitors to The Orchid Show may browse thousands of top-quality orchids, from exotic, hard-to-find specimens for connoisseurs to elegant yet easy-to-grow varieties for beginners, along with orchid products and books.
For more information about The Orchid Show, please visit: https://www.nybg.org/event/the-orchid-show-natural-heritage/
About Lily Kwong
Lily Kwong's reputation precedes her. In addition to taking part in numerous public art initiatives including the High Line and Grand Central Terminal in New York, Kwong was named to the Forbes 30 Under 30 (Art & Style) list in 2018 and ELLE DECOR's A-List. Recognizing her efforts, Kwong was named one of "9 Young New Yorkers Poised for Creative Greatness" by The New York Times, and her work has been featured in The New Yorker, Vogue, Architectural Digest, Domino, Forbes, Fast Company, and more. She previously served as Landscape Editor for Cultured magazine.
About The New York Botanical Garden
Founded in 1891, The New York Botanical Garden is the most comprehensive botanical garden in the world and an integral part of the cultural fabric of New York City, anchored in the Bronx. Visitors come to the Garden to connect with nature for joy, beauty, and respite, and for renowned plant-based exhibitions, music and dance, and poetry and lectures. The 250-acre verdant landscape—which includes a 50- acre, old-growth forest—and the landmark Enid A. Haupt Conservatory support living collections of more than one million plants.
One might question a visit to a botanical garden in the middle of a New York winter. But a stroll through the varied climate-controlled rooms of the Haupt Conservatory, particularly with The Orchid Show in full bloom, provides a perfect winter escape.
For more information on NYBG visit: https://www.nybg.org
All photos by Jeff and Stephanie Sylva