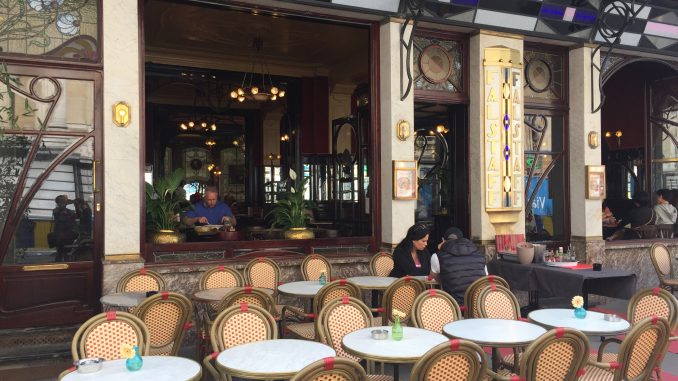 Belgium is well-known for its "café culture", as much in the small villages as in the big(ger) cities.
A café is a place to gather, drink a beverage – often a beer – and talk about daily events, discuss the latest soccer matches (or even personal issues). In the small towns the cafés are mostly very bleak, just some simple tables and chairs, and a bar counter, and the owner behind it, whose task is also to keep everything and everyone under control!
In Brussels, there are some beautiful café and brasseries that because of its history and aesthetic look have put an imprint on the capital of Europe. A few highlights …
Exterior Le Falstaff

Interior Le Falstaff with its stained glass
Le Falstaff in the center of Brussels – not so far from the Bourse building – is an authentic "brasserie" in Art Nouveau style. Patrons can admire its unique interior with gorgeous stained glass. You can drink a cocktail or eat a Belgian dish "with elegance". No wonder it is most-liked by the (more prosperous) locals and – of course – tourists.
– Art Nouveau (new art) is an international style of art, architecture and decorative arts (1890-1910), that is characterized by its organic lines, based on floral and plant forms. It bloomed in Brussels thanks to architect Victor Horta. He is most famous for his astonishing "Horta House". –
On the other side of the Bourse is Le Cirio, an historic landmark. Founded in 1886 by the Italian business man Francesco Cirio, and in Art Nouveau and Neo-Classic style, it has been a protected building since 10 years. The splendid interior is definitely an eye catcher: stained glass, chique chandeliers, detailed paneling and an abundance of mirrors, … Worth discovering.
Look out for the waiters in white & black outfit while sipping from its famous drink "half and half", a flute filled with half white wine and half sparkling wine. A cool fact: Belgian/French chansonnier Jacques Brel (who lived in Paris) often frequented Le Cirio when visiting Brussels.
I personally do not like to visit Le Falstaff and Le Cirio often, in part because the drinks and food are rather pricey, and they cater in general to a more mature public.
Exterior Goudblommeke in Papier
My favorite is Het Goudblommeke in Papier (Golden Flower in Paper), an "estaminet" with an impressive history that goes way back till before World War II.
This artistic-literary café was then a hangout for artists from the surrealistic Cobra movement: Belgian artists Pierre Alechinsky and Rene Magritte met with surrealistic poets of that era.
After World War II famous (to be) Flemish writers (like Hugo Claus and Louis Paul Boon) met there with i.e. the founder of the 'Art Brut' Jean Dubuffet. They discussed their literary and artistic work and their views on the world. You could compare it – from far – with the Bloomsbury Group in England.
Currently it is still a venue where literary evenings are hosted – or art shows organized- which I try to attend now and then.
The original café still has its authentic interior, with the walls in dark wood, and small sturdy wooden tables and chairs, a bit crapped all together (a little minus…). The estaminet also serves typical Brussels dishes like 'beef stew a la Bruxelloise' or 'stoemp (mashed potatoes mixed with vegetables like carrots or spinach) with sausage'. Rich (comfort) food for sure, which you can wash down with one of the many Belgian beers ! Since I love its unique atmosphere so much, I go there to meet with a friend to catch up over a Brussels beer (like zinnebir or geuze).
Typical interior of a "brown café" – here Le Coq
I also like the cafe Le Coq, a typical "bruine kroeg" (brown café) that comes closest to the cafés in the small Belgian villages. The name "brown café" comes from the fact that the walls are covered in dark brown wood, and its interior is kept very basic.
It's a popular hangout with local hipsters, students, artists and (semi-) intellectuals, who like to read their newspaper there over a cup of coffee – or later in the afternoon – a special Belgian beer. On weekend evenings it is usually very crowded. Also, you can regularly catch a free concert of an upcoming pop/rock band.
Abundance of TV screens in The Big Game

where the patrons can watch soccer games the whole day
On the other side of the spectrum, and located almost next to The Falstaff, is a huge sports bar The Big Game, obviously inspired by the American equivalent. Open about 3 years, it has had an enormous success. Patrons – often youngsters or sports aficionados can watch a variety of soccer matches while drinking (huge amounts of) cheap pils beer the whole day. It is also the place to be for club fans to meet and get loaded up on beer before international soccer matches. Needless to say, that after hours of drinking tempers can flare … No further comment.
So, what choice would you make when visiting Brussels?
Note: In Belgium as in most (Western) European countries, it is allowed to drink alcoholic beverages in open patios, public spaces, and even to walk around with them on the streets etc,. as opposed to the USA. All photos © Kaat Cleenewerck