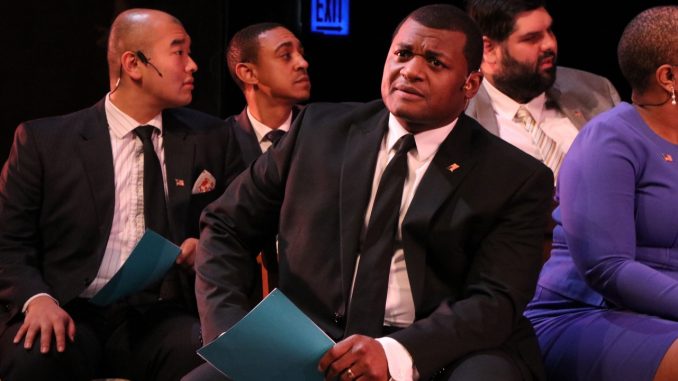 Much like the history of our nation, the musical 1776 had inauspicious beginnings.
As Porchlight's artistic director, Michael Weber, shared in the before-show Behind the Show Backstory, 1776 met with resistance and dismissal before finding its footing and going on to acclaim, success, and three Tony awards in 1969. In my conversations with other musical theater lovers over the years, it's clear that 1776 remains an acquired taste, often seeming dated in structure and tone, a problem not helped by casting. I saw the 1998 off-Broadway revival, as well as its Broadway transfer cast, and there wasn't a single non-white cast member in the lot.
Porchlight solved for that, and a little more, in their exclusive 3-performances-only staging, which ran from November 14-15 as a part of their wonderful Porchlight Revisits series, which "celebrates the lost musical gems of the Great White Way." Cleverly costumed by Casey Woods as a modern piece for 4/5 of the musical's 2+ hour run time (presented, as originally conceived in 1969, with no intermission), Weber nudged the audience to see the parallels in the Founding Fathers and their in-fighting and ideological misalignments. Most pointedly, the courier bringing news from the front, barely acknowledged by any of the lawyers and landowners, was dressed in modern Army fatigues and played by a young black actor, Nolan Robinson II; his performance of "Mama, Look Sharp" was appropriately haunting while stirring thoughts of the continued challenges America faces to support its battle-scarred vets once they are home. Likewise, the harpsichord-plucking minuet of "Cool. Cool Considerate Men," as led by the tall, graceful, and commanding Heather Townsend (recently Joanne in Venus Caberet's wonderful Company) became a dance of golf-club-toting, red-hat-wearing representatives extolling the virtues of "land/cash in hand/self-command, future planned/fortune thrives, society survives/in neatly ordered lives."
The small stage at the Ruth Page Center for the Arts seemed almost claustrophobic, filled with chairs, tables, podiums, and the large cast–fitting and evocative, I suppose, of the hot, oppressive chambers in which all of 1776 is set–but Kelvin Roston, Jr. as the prickly, determined, "obnoxious and disliked" John Adams and Michelle Lauto as Abigail Adams (Michelle Lauto, doing double duty as actor and musical staging lead) deftly represented the space between the future President and his First Lady, struggling to keep Adams Braintree farm afloat while children perpetually suffer from the illnesses of the time. Their epistolary duets rang with humor and a warm, long-established partnership. Their efforts were a terrific bookend to the other separated historical lovers, Thomas Jefferson (sublimely portrayed by Robert Quintanilla) and Abigail Jefferson. As played by an exuberant Lucy Godínez, Abigail sent her one number "He Plays the Violin" soaring and dancing into the air well before she began her waltz with Roston and Joseph Anthony Foronda as the self-aggrandizing and rascally Benjamin Franklin. She and Quintanilla had sparkling chemistry in their few brief scenes together as well.
The standout numbers, "The Lees of Old Virginia" and "Molasses to Rum," were dispatched by the evening's standouts. Teresa La Gamba, lately of Paramount's Legally Blonde, unleashed all her comedic prowess as Richard Henry Lee. I fear her performance was the only one truly hemmed in by the performance space; one could imagine with more room to caper, she would have been a true tornado. And opera-trained William Dwyer, eerily lit, powerfully unleashed the shameful details of both the North and South's economic reliance on the slave trade. His vocals were flawless and one could see him embracing the ghoulish playacting Rutledge employed to mortify and discredit his abolitionist peers.
Porchlight Revisits' next show is 1953's Can-Can, with music by Cole Porter, in March 2019, and their much-celebrated staging of Gypsy starring E. Faye Butler has been extended to December 29th. Tickets and subscription packages can be purchase by visiting Porchlight's website or by calling 773-777-9884 during box office hours (posted here).