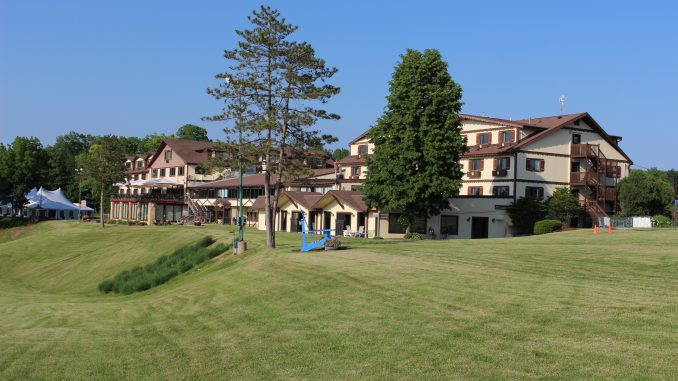 Standing high atop a bluff overlooking the Mississippi River just a few miles outside of the vacation destination of Galena, IL is Chestnut Mountain Resort. Built in 1959, and sporting 19 ski runs totaling 3,500 feet with a 475-foot drop that brings you almost to the edge of the river, it's a clear winter destination for skiers and boarders of any level from beginners to black diamond experts. But it also should be on your list as a fun getaway from city cares during the summer.
With 99 guestrooms, an indoor pool, sauna, jacuzzi and a spacious restaurant, you have everything you need for a comfortable stay. We had one of the very spacious 44 rooms featuring two queen beds and a sofa. It also came with a table and two chairs perfect for eating in your room or working. A microwave, coffee maker and refrigerator were on hand for keeping snacks or leftovers for later. There was a nice TV that we never bothered to turn on. There was an iron and ironing board, built in hair dryer and plenty of outlets to power any electronics. The bath area also featured two sinks, one inside with the toilet and tub and another outside so two people could get ready at once.
The rooms are tastefully decorated in earth tones and seem to have been most recently renovated in the early 2000s. The beds are very comfortable, the pillows a trifle on the squashy side for my taste, but there are plenty of them. There are even extra blankets and pillows inside the dresser that holds the television, fridge and microwave. Blackout curtains make sure you can relax.
Of course, the most exceptional amenity our room provided was the view. We looked out over the ski slopes and straight down the hill to the sparkling river below. The Mississippi is a mile wide at this point, widened when locks were added some decades ago for flood control purposes, and it's as spectacular as any lake in Wisconsin or Michigan. This glorious view is a theme of the resort. They've done their best to maximize it, situating as many of the spaces as they can for the enjoyment of their guests. Most of the activities are centralized in or near the central lodge  building, so that you don't have far to travel between them and can easily move from one bit of fun to the other, all with an eye to the spectacular view.  Midwestern hospitality and comfort at its finest.
The earth tone decor carries through the rest of the public spaces including the restaurant, lobby, meeting rooms and hallways, most of which are showing some wear, but the entire place is absolutely spotless. There's a grand piano in the lobby, which guests were making use of while we were there. And there's another in the restaurant, though we never saw anyone playing it.
The indoor pool features some spectacular purple tiles and is quite spacious but is one of the areas of the resort that could use an update. But it is immaculately clean.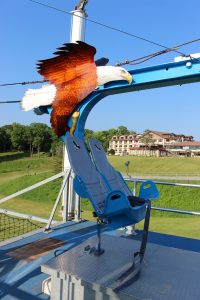 But if you're coming to Chestnut Mountain, I can't imagine you'd be planning to stay inside. You certainly shouldn't, as the management has put a great deal of thought and effort into creating welcoming and unique outdoor activities to enjoy for everyone.
Most attractive to kids, I imagine, is the Soaring Eagle Zipline, which isn't like many ziplines in that it's really a modified chairlift. You sit in the not very deep chair with only a lapbelt on while you're dragged backward high in the air and then swoop down across the bunny hill of the resort. As you do so, you are treated to a spectacular view of the river and a rather rough stop at the bottom. I am totally unafraid of heights and I rode this thing. I would have liked both a deeper seat and a shoulder belt or something to hang onto because it felt quite insecure, but the kids I saw ride it seemed to be having a great time. I would certainly do this again, but if you are a tall person, you might want to grab the back of the chair with one hand, especially as you get toward the bottom and the rather abrupt stop.
Next is the really amazing and incredibly affordable ride they've set up–the Alpine Slide, or, as my friend and I were calling it, the Bunny Luge. A more than 2,000 feet long, winding, plastic track with two lanes has been run down one of the ski slopes. Blue plastic sleds with a simple braking mechanism are provided and used by one and all. I saw people ages about 8 to 70 riding this thing while I was at the resort. I rode it myself and it was absolutely worth the $8. Even better is the multi ride or unlimited ticket because you'll want to do this again and again. And another bonus is riding back up the hill on the chair lift. It affords you a lovely view. Including, in our case, the sight of a sleeping fawn right under the lift.
There's also bike rental and all sorts of trails on which to enjoy them, a rather basic mini-golf course, disc golf and the impressive looking Segway Tour. After some initial instruction, parties head out on a guided three-mile 70-90-minute tour on these personal, modern conveyances.
Best for the adults in the group, but also completely appropriate and educational for children, is the 1.5-hour Mississippi River cruise. Capt. Bob and his assistant know the river navigation, local lore and wildlife like the back of their hands and this is not to be missed. They bring with them all sorts of educational materials from antique photos to real animal pelts. We learned that Galena's wealth was built on the local lead mining industry and were shown a piece of native lead ore. They also pointed out the mouth of the Galena river, mostly dammed up with silt from all the mining upstream.
Traveling on the small pontoon craft allows you to get up close and personal with a great deal of wildlife. The river is shallow here and the slight draft of the boat means that you can get closer to anything of interest and Capt. Bob does so at every opportunity. We saw no fewer than 4 bald eagles, a large assortment of pelicans, geese, great blue herons, grebes and other water birds, turkey vultures in flight, beaver houses, a muskrat, deer, turtles and songbirds. There are mini binoculars stowed all around the vessel so you can pick some up for a better look at any of the wildlife you encounter.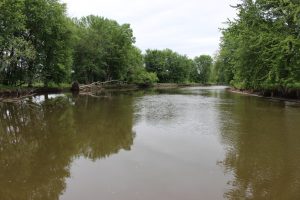 The real highlight of the trip is a quiet cruise into one of the side slews of the river, created when the locks were built and home to all sorts of wildlife. Local kids use it to swim, as there's a rope swing dangling from one of the trees. It's also just a place of tranquil beauty and really takes you away from the cares of the city. I was sad when we had to turn around and head back. But it also gives you an incredible view of the resort as you return to the dock.
While the resort has a lovely restaurant and bar, we went into Galena proper the first night we were there and it is just as charming as you might think. Historic buildings are everywhere and, because it is a resort area there are quirky shops and fun restaurants all along the main street. You can buy everything from a Root Beer Flight at Root Beer Revelry (get the Blumer's, you'll thank me), to a funny t-shirt at any number of quirky shops, to home made preserves at Galena Canning Co. and any kind of candy imaginable at Galena's Kandy Kitchen.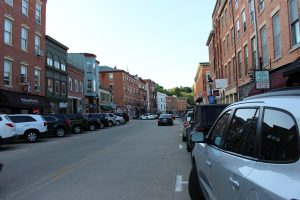 For more adult tastes, local wineries have their tasting rooms on the main street and you can end up at Galena Brewing Co. to sample the local beer. There's ample dining from fine restaurants to fun burger joints, ethnic cuisine from sushi to German to Italian. The ambience is incredible as they've preserved the main part of town from its prosperous heyday and it is a living, breathing, going concern, carved out in stair steps up the bluff. And it's well worth a drive or walk up to the top as the views are glorious and the historic architecture is well worth your time.
The second day, we stayed at the resort for our meals and had their splendid breakfast buffet in the morning at the Sunset Grille, complete, in my case, with superb cinnamon French toast, as in French toast made out of cinnamon bread, not cinnamon added to the egg. Along with fluffy scrambled eggs and perfectly cooked and greaseless bacon, there was wonderfully fresh fruit, pastries and anything else you could have wanted. It was an affordable $12.95 as well.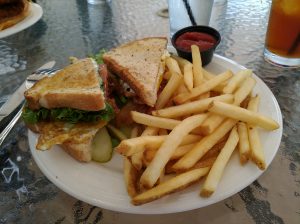 After the cruise and Alpine Slide, we moved outside onto the 1,400-foot outdoor dining deck and had the delicious BLT (with an egg, which is unusual but excellent) and Pork Cutlet sandwiches. I am still kicking myself that I got fries instead of the homemade chips. Those chips are a poem and everyone should order them. With Chestnut Mountain's million-dollar view, we stayed in our chairs for quite a long time just enjoying the clean, fresh air and the spectacular vista. Our lunches were also extremely affordable and that's honestly one of the most remarkable things about the resort.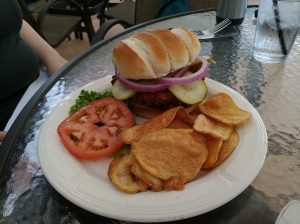 At Chestnut Mountain you are getting the best of Midwestern hospitality–wonderful value for your money, pleasant and friendly service and tons of space. They offer unique experiences like the river cruise and Alpine Slide that you won't find elsewhere, while your comfort is assured, and all at a price that won't break the bank, rooms range from $99 midweek to $169 for a weekend and they do routinely offer sales and specials. And though it's only a few hours from Chicago, Peoria, Des Moines, Madison or Milwaukee, it feels miles away from the everyday. Keep it in mind the next time you're looking for a vacation destination.
Photos by Suzanne Magnuson and Chestnut Mountain Resort
Book your stay at Chestnut Mountain Resort's website.