When you want to convince someone who doesn't ordinarily want to see opera to go with you, Tosca is a safe, good choice as Puccini's tale of love, politics and betrayal always features the drama, melodies and vocal pyrotechnics that shows opera at its best.  And with famed arias Visi d'Arte and E lucevan le stelle, even the most inexperienced opera-goer has probably heard parts of the score. But what new, then, to do with the fifth most-performed opera in history?
The Met has decided to go over-the-top with its new production, re-creating the actual Roman locations on stage where the story is set.  During one of the interview segments, host Isabel Leonard spoke with Director David McVicar who went to Rome and made extensive sketches in order to get the sets exactly right.  And they are utterly amazing and very artistically rendered like you're looking at a perfectly realistic painting by an Old Master.  Short of the filmed versions starring Placido Domingo at all the actual locations in Rome, this is about as close as you're going to get.  The production is lavish spectacle throughout but doesn't lose the heart of the story at all.
It is both utterly traditional and utterly superb.
The entire production is slavishly devoted to the original score and setting.  The sets, the costuming, the characters are all exactly as advertised, with the exception of Tosca's performance dress being rather too sparkly for Napoleonic times.  But you are more than willing to forgive that when you look at the quality and care put into every aspect of this.
And it's even more remarkable when you realize that the people you are seeing are actually the Met's B-team for this opera. This production lost its lead tenor, Jonas Kaufmann, lead soprano, Kristine Opolais and her husband, who had been chosen to conduct.  They put James Levine in that position and then had to suspend him for sexual misconduct.  And then they lost their Scarpia as well.
In their place, they got Sonya Yoncheva as Tosca, Vittorio Grigolo as Cavaradossi and Zeljko Lucic as a wondrously compelling Scarpia. When you see them, you'd have no idea that this production and this cast wasn't exactly as planned.  When Isabel Leonard spoke with the principles they both stressed that they were attempting to bring out the youth and vitality of the young lovers, and you absolutely see that in their performances.  It doesn't hurt that they are both young, themselves.
Yoncheva gave us a truly pious, sweet and loving Tosca, so it was a bit hard to buy her jealousy in Act I. But you certainly do see her fear, love and strength in Acts II and III.  Also, her belief that she has actually gotten Cavaradossi a reprieve.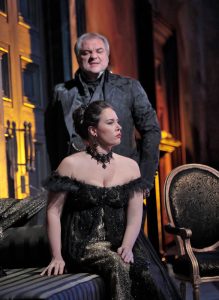 Grigolo is every inch the passionate young artist and idealist. You can understand his immediate willingness to help Angelotti and his continual defiance of Scarpia's petty justice. His vitality on stage is perfect for this youth-oriented production.
Lucic is a wonderfully suave Scarpia but mostly doesn't seem evil or lecherous enough.  He sings the words but doesn't seem really villainous.  Wonderful singing, though.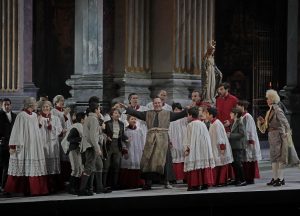 Another special charm of this was the supporting cast, all of whom were superb, especially Patrick Carfizzi's take on the Sacristan of Sant'Andrea della Valle, which was like a comic turn by Patton Oswalt, he was so full of disgust and annoyance at the awful artistic types ruining his holy place.
The pageant of the Act I is also as huge as you might wish. Anyone who has attended any large Catholic procession will not be disappointed in the truly massive Te Deum.
The second set of the Palazzo Farnese is as elegant and splendid as the action is sordid, full of torture, coercion, despair and ultimately murder.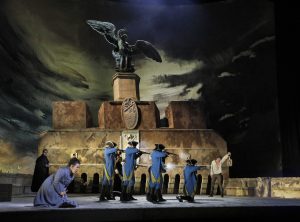 And the third takes place beneath the angel that crowns the Castel Sant'Angelo and you can see how perfectly it's re-created for this production. And the sets are used well throughout.  There's always something happening.  Park and bark this is not.
It is a feast for the eyes as well as the ears, and as usual, the interview sections the Met provides for the Fathom Events HD productions are enlightening.  There was an excellent interview with David McVicker about how the sets were all designed. He seemed rather uncomfortable on camera, but his enthusiasm for the design absolutely shone through.
The backstage interviews were somewhat less helpful as everyone involved in the production is such a pro that they really didn't have a lot to say about craft or technique.  They showed up and did their job.  Grigolo told an amusing story about the first production of Tosca he was ever in, where the Cavaradossi was Luciano Pavarotti. And it's anecdotes like his that really add charm to these interview sections.
There was even a preview of the upcoming production of Semiramide with Angela Meade and she sang a spectacular aria, but again, the interview sections lacked all pretention.  Ms. Meade simply said that she knew her voice better than the first time she'd played the role and now put ornaments in different places.
That said, if this is ever offered again, it is an absolute must-see.
Photos by Ken Howard for the Metropolitan Opera.