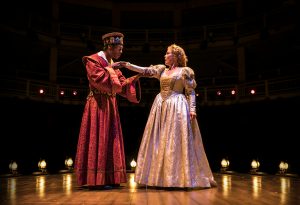 In nineteenth century London, it was standard practice for Shakespeare's tragic hero Othello—a character repeatedly described as a "Moor," a loosely defined, outdated ethnic term applied broadly to Muslims of Arabic or North African descent—to be played by a white man, in spite of explicit textual references to the character's non-white heritage.
Good thing nothing like that happens anymore.
Red Velvet, an award-winning play by Lolita Chakrabarti, currently being presented at Chicago Shakespeare Theatre, tells the true story of Ira Alridge, a nineteenth-century black actor who enjoyed a highly successful career, earning critical praise and becoming the highest-paid actor of his time. His name has been mostly forgotten by history (no points for guessing why), but Chakrabarti's script brings his story to life—specifically, it highlights an event early in his career, when he sparked outrage by playing Othello for two nights at one of London's most prestigious theaters, the Royal Coburg in Covenant Garden.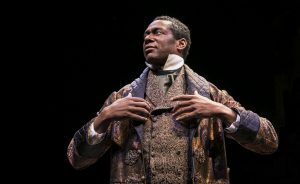 An acclaimed Shakespearean actor himself, Dion Johnstone plays the role of Ira Aldridge, and as my boyfriend put it after the show, "I'll go see anything he's in." Indeed, it's easy to quickly become a fan of Johnstone after seeing the incredible range he displays in Red Velvet. From the self-centered, abrasive elderly Aldridge he portrays at the beginning and end of the show; to the confident, passionate young Aldridge he plays in between; to the furious, irrationally jealous Othello he captures so well in the sections of play-within-the-play, Johnstone displays remarkable command of language and physicality, and he makes smart, razor-sharp choices from beginning to end.
The connections between Aldridge's story and our current culture are overwhelming. Who could forget the racist backlash against the casting of a black girl as Rue, a character explicitly described in the books as having dark skin, in The Hunger Games movie a few years back? And in a moment that hit even closer to home, one of the play's most unsettling scenes depicts the actors reading aloud the flagrantly racist newspaper reviews of Aldridge's performance. My jaw dropped to hear their words, and yet, that might have been me a hundred and eighty years ago, writing those horrible racist things in my reviews. Hell, that might be me now, if I never examine my own prejudices and don't take care in the way I write about people of color (can't think of any other Chicago theatre critics who've done anything like that recently).
Chakrabarti's script is also masterful at weaving the story of Othello with the story of Aldridge's life. "I really liked how they connected his story to Othello's," I told my boyfriend.
"Totally," he responded. "How he slowly descended into madness towards the end."
"You mean when the older Aldridge is talking to imagined figures of his past?"
"I meant when his betrayal by his best friend drove him into a rage."
"Oh. See, and I wasn't talking about any of that initially. I was talking about how the thing that outraged people the most about Aldridge was the amount of physical contact he made with a white woman—the actress playing Desdemona—just like how Othello is hated for daring to marry a white woman."
The use of the eponymous red velvet curtain, designed by scenic designer Scott M. Davis, is also reminiscent of the bed curtains used to hide Desdemona's body. The connections between the two scripts are rife, and the through lines become clear between the themes of Othello, the events of Aldridge's life, and contemporary theatre and film's issues with race.
The script of Red Velvet is also Shakespearean in itself, complete with a framing device, a play-within-a-play, and a range of styles from high-brow drama to low-brow comedy (Bri Sudia earns scores of laughs with her energetic performance and excellent comedic timing as Betty Lovell). And observing it all, a servant character, Connie, a Jamaican woman whose understanding of the events onstage might be the most complete of any character's, telling Aldridge of his negative reviews that "people see what them want to see."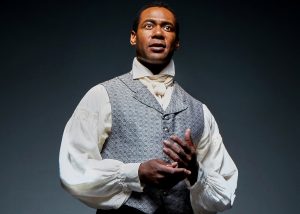 Too many plays about the -isms of the past: racism, sexism, anti-Semitism, etc., are easy to push into the territory of "back then." "Back then" a black man couldn't play Othello. "Back then" a female reporter like the one who interviews the older Aldridge couldn't be taken seriously. But Red Velvet pushes aside the veil of "back then" and reminds us that our ugly, unnamed prejudices still hide beneath the surface of our skin, that even the "good," "well-meaning" white people, men, straight people, etc. are often responsible for perpetuating prejudice and systematic exclusion. It's up to all of us to look at our casting choices—whether they're literal theatrical casting choices or the "casts" of people we work with or invite to speak on panels or whose opinions we choose to listen to on social issues—and ask "who is missing here? And why?" Maybe then, the glaring racism Ira Aldridge experienced can finally be relegated to the past where it belongs.
Ticket Information
Location: Chicago Shakespeare's Courtyard Theater
Dates: December 1, 2017–January 21, 2018
Tickets: Single tickets are on sale now for $48–$88 (subject to change). Special discounts are available for groups of 10 or more, as well as CST for $20 tickets for patrons under 35. For more information or to purchase tickets, contact Chicago Shakespeare Theater's Box Office at 312.595.5600 or visit the Theater's website.
Accessibility: CST strives to make its facility and performances accessible to all patrons through its Access Shakespeare programs. Red Velvet will have Open-captioned performances on Thursday, December 21 at 1:00 p.m. and 7:30 p.m.; an ASL Duo-interpreted performance on Friday, January 12 at 7:30 p.m.; and an Audio-described performance on Sunday, January 14 at 2:00 p.m. (with optional touch tour at 12:00 p.m.).
All photos by Liz Lauren.