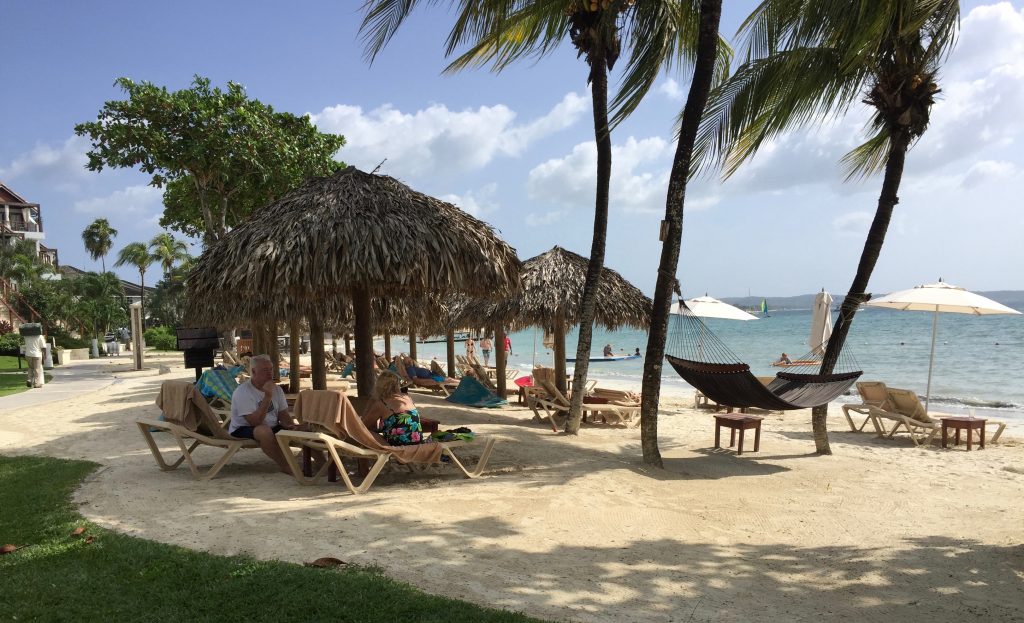 What do you want from your vacation? If you picture a Caribbean environment with a beautiful beach, superior facilities, delicious food, and excellent friendly service, than Sandals, Negril is a great choice. We had the pleasure of spending a few days in this beautiful Jamaican location in October of 2017.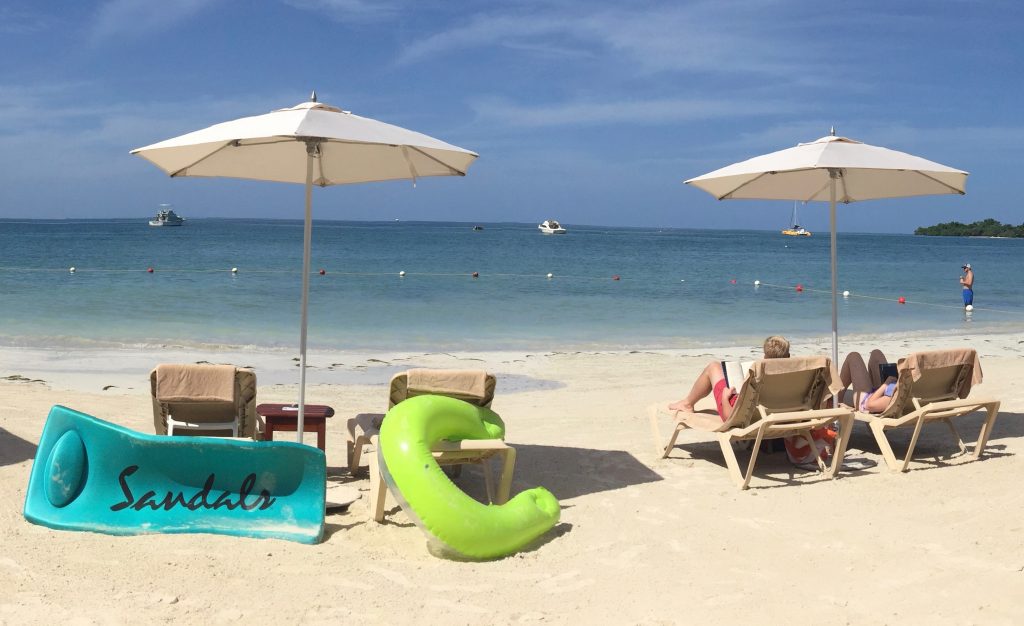 Sandals Negril is one of 16 all-inclusive Sandals Resorts designed for couples and located throughout the Caribbean. This award-winning destination is not for those seeking a 24/7 party place, but is perfect for those who want to enjoy the charm of a Caribbean vista under the warmth of the sun.
We hardly had time to settle in when we were told that our transportation was ready. The 1 ¼ hour ride flew by in the comfort of our private car which was a perk of our room category. We passed a few small towns, some with shops, others with what we would call a marketplace with stands, as well as lush countryside.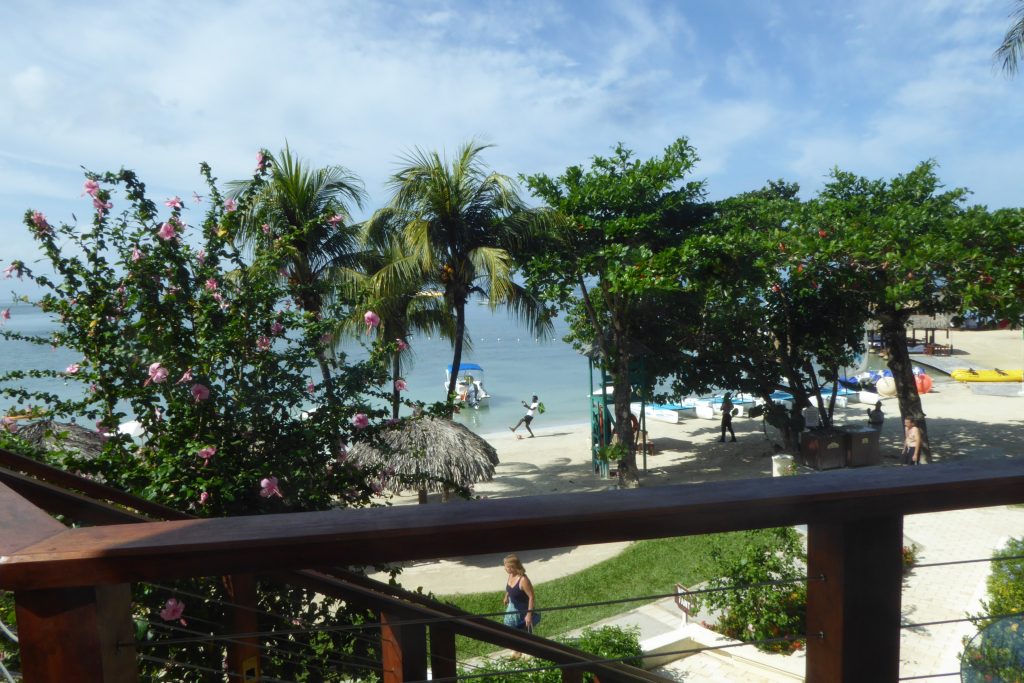 We had warm greetings, a refreshing washcloth, along with a cool glass of champagne as our welcome as the resort. Check-in moved quickly and we were personally escorted to our room where our luggage was waiting. Our room included a table for two, perfect for room service private meals, and both a shower and a tub in the room. All rooms include a patio or balcony. We also had a tub (suitable for two) on our private balcony. And yes, of course, there is wifi included.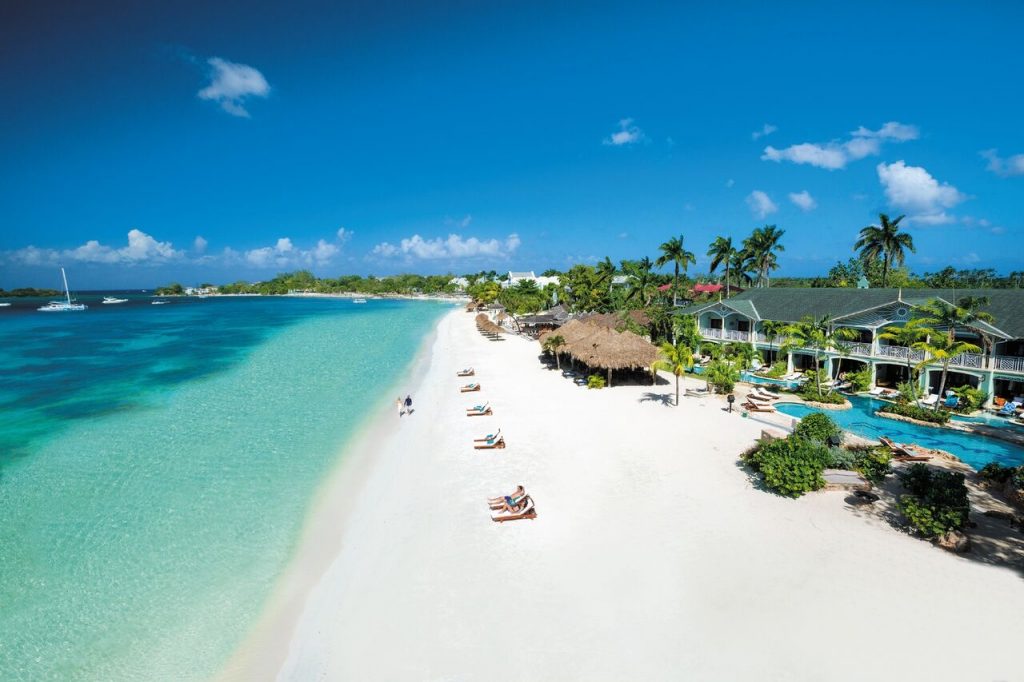 Sandals is located on 12 acres and includes 226 rooms with 16 room and suite categories. These accommodations range from the spectacular honeymoon suite complete with a private plunge pool and miniature waterfall to standard rooms equipped with basic amenities including stocked refrigerators.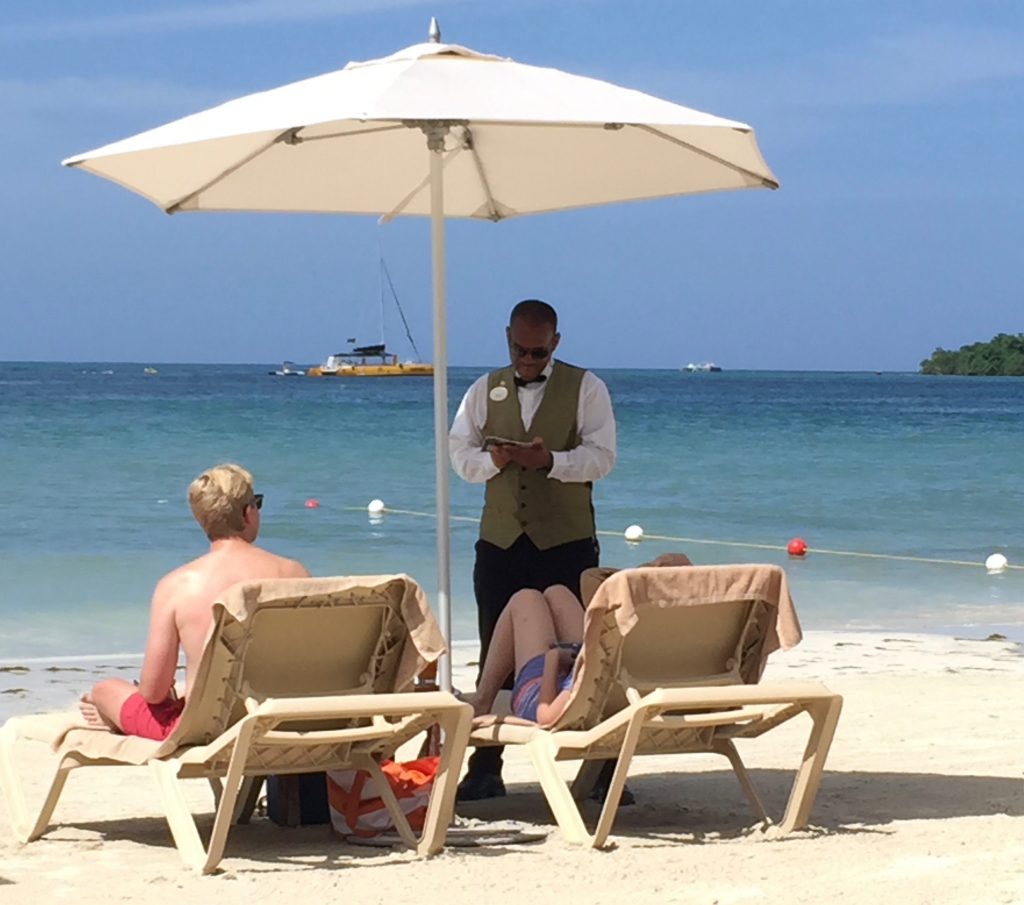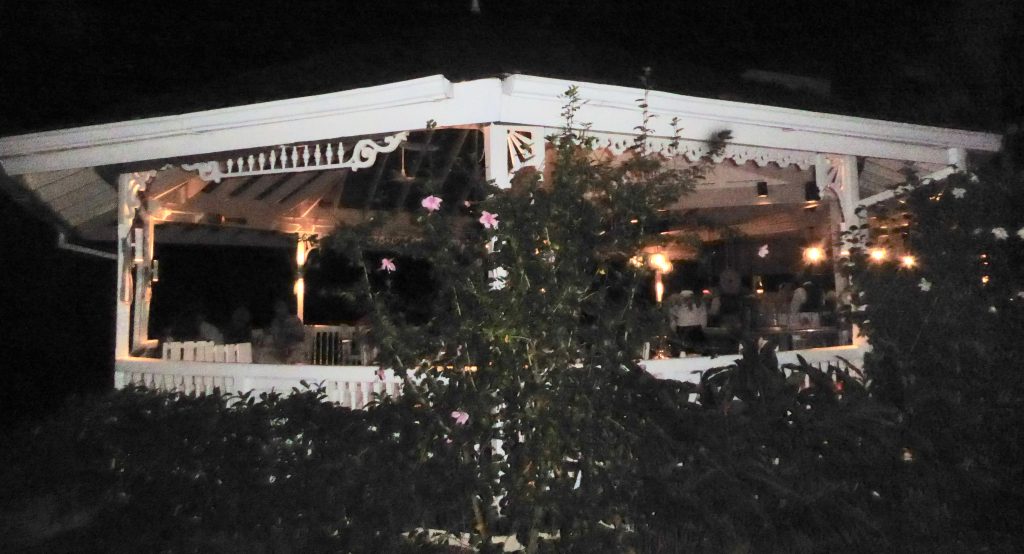 During our four day stay we were able to sample much of what the resort has to offer.  We especially enjoyed the Spaghetti Carbonera and Chicken Parmesan at the Cucina Romano Italian restaurant. Burt and I had a delightful dinner, sipping wine while listening to the waves just outside the open air restaurant.
We got a late night snack at the Beach Bistro which is open until 6:00 AM. The Bella Napoli Pizzeria which is open from 11:00 AM until 6:00 PM and was a great place for us to get an afternoon personal pizza snack.
The Bayside restaurant located in the center of the resort offers extensive breakfast and lunch buffets. It turns into a gourmet French bistro at night compete with on stage entertainment. For dinner we selected the onion soup followed by lamb shank and crème brule.
  A Jamaican steel band and dancers entertained us while we sipped after dinner cocktails. Video by Dianne Davis
The Jamaican and Japaneses themed restaurants were enjoyable, but our favorite experience was breakfast at the Sundowner. This restaurant sits right on the beach. You can enjoy watching the small waves come ashore while sipping mimosas and indulging yourselves in a breakfast of steak and eggs. That's just what we did.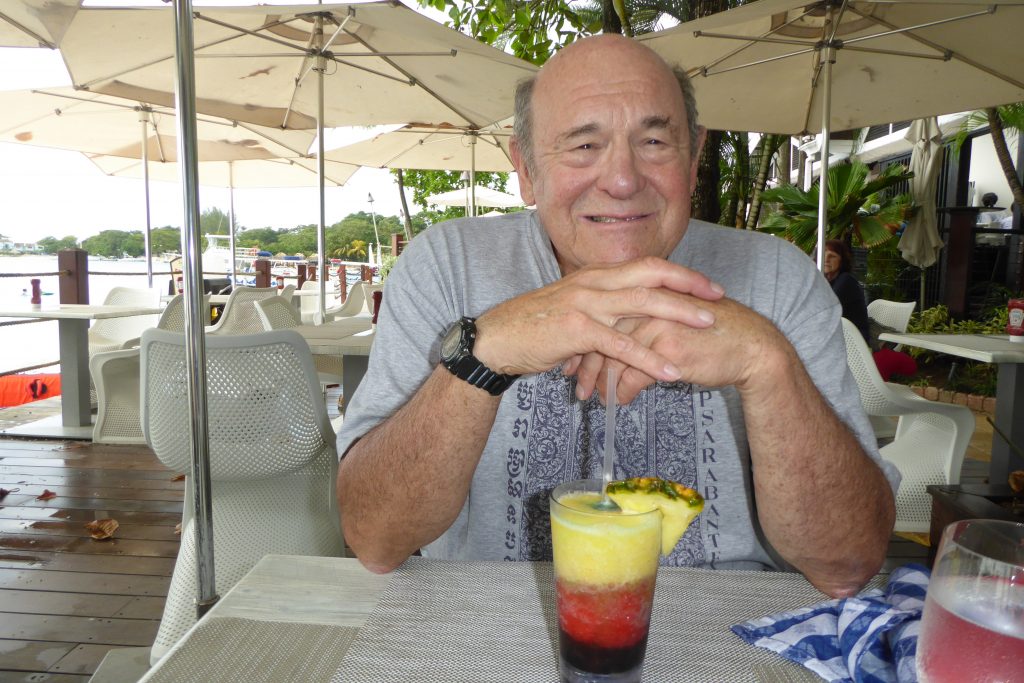 Sandals has five bars where you can order drinks from 10:00 until 2:00 A.M. I'm not a drinker, but Burt told me that he was impressed by many of the top shelf brands available at the bars. The friendly bartenders are highly skilled in making a variety of unique cocktails. Don't worry about having to bring tip money to the pool, or anywhere on property. They say there is a no tipping policy and we never felt like we were solicited for a tip.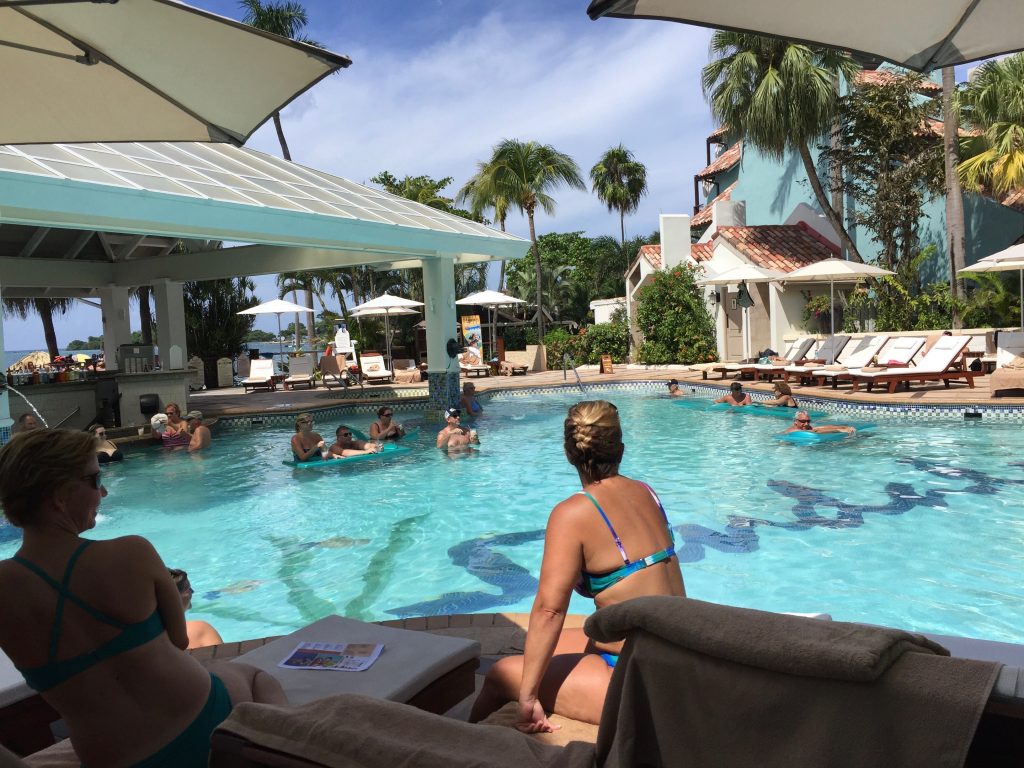 The swim up bar at the main pool is a great place to get a drink and mix and mingle with the other guests. Games and activities around the pool provide a good way to meet other vacationers in a relaxed atmosphere. Water volleyball was a popular pastime.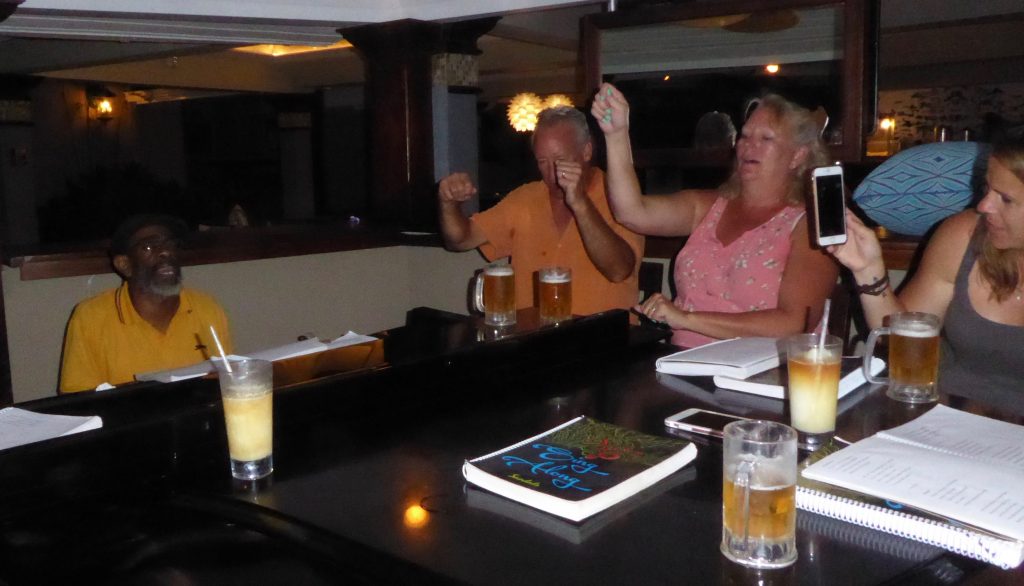 We were especially impressed with the scuba diving facilities at the resort. They offer lessons and certification courses for guests that are medically qualified to dive. Certified divers are offered unlimited diving from a well equipped boat. That's a huge plus!
Intangibles are an important part of any resort. The 450 employees at the resort are well trained. We found the staff to be cheerful and responsive to requests and all with smiles.
Most of the guests were friendly and easily engaged in conversation. We noted that many had made multiple visits to one or more of the 16 Sandals resorts. . Most of the couples at the resort were from North American and covered a wide age and demographic span.
We met with Jervene Simpson, Sandals Regional Public Relations Manager. She told us that many guests are married at Sandals or hold vow renewal ceremonies there. They offer a wedding planning team and can help customize the wedding ceremony and reception. The wedding options are extensive.
Jervene also told us that there is a Sandals Corporate University which is designed to provide employees with a deeper education. Staff are encouraged to apply and take courses that broaden their knowledge and improve their chances for advancement. This translates into loyalty on their part and excellent service for the guests. Many of the folks there told us that they enjoy returning to greet staff members they met on previous visits.
Sandals offers an excellent loyalty program whereby many guests receive perks and discounts on future trips. The resort even runs a loyalty week designed to recognize repeat guests.
We were invited into a large tent housing a wedding celebration and it was clear that those present were enjoying the atmosphere and the wonderful weather.
Renee Deleon, Regional Public Relations Coordinator for Sandals, told us about one of their preservation initiatives.  They don't believe in destroying what nature provides, but in the case of natural disaster, they turn the trees into artwork showcasing the creativity of the Jamaican people – Photo by Burt Davis 
Another wonderful plus is the resort's proximity to the water. All rooms are within a three minute walk to the ocean. And the included drink service follows folks to the water's edge.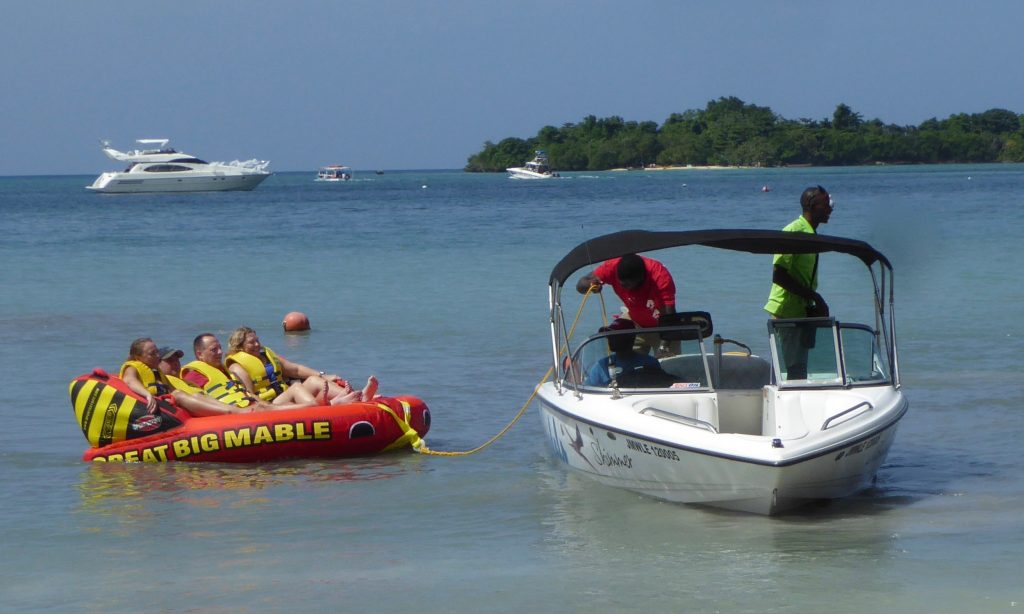 For those who want more than sitting in the comfortable lounge chairs on the beach, there is the glass bottom boat or snorkel excursions. And of course, a well-equipped work out room is available as well. After that work-out, guests can check out the spa services.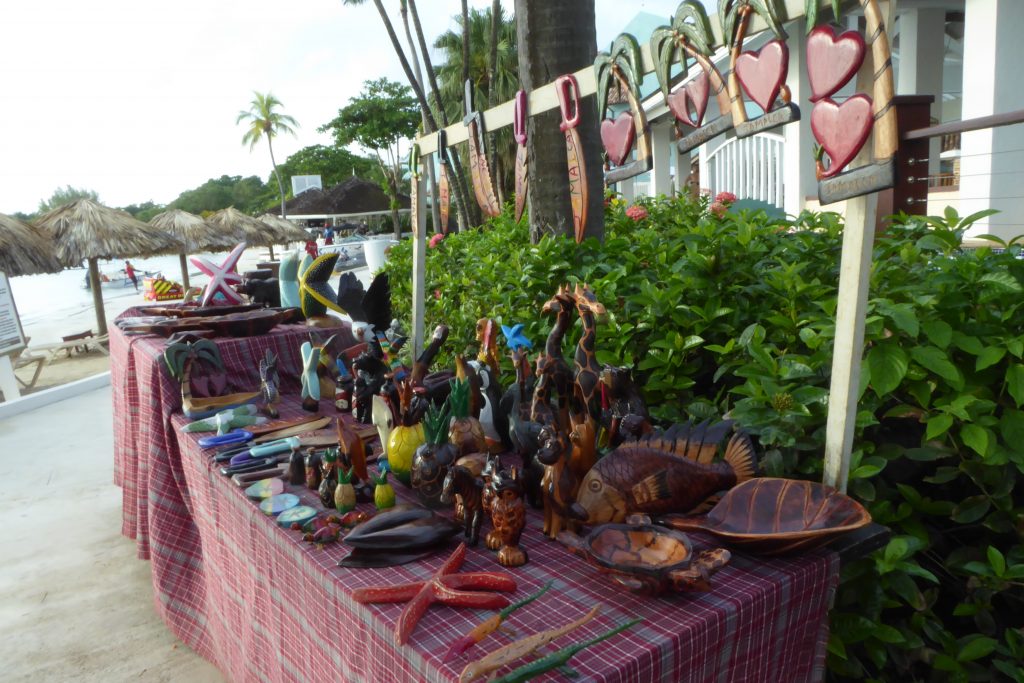 We enjoyed our four days at Sandals Negril and hope to visit one of their other resorts in the future.  I'm guessing that couple will as well.